Passion for wheels and technical moulded parts in polyurethane

| Competence | Comfort | Security |

High-quality materials
Vulkoprin has developed a full range of top quality polyurethanes. 
Vulkollan® has distinguished itself in recent decades as the "benchmark" material for heavy-duty wheels. To date, no other type of polyurethane succeeds in giving the same excellent mix of properties over a very wide temperature range.
With the Printhane™ polyurethanes, Vulkoprin has succeeded in accentuating certain properties for specific applications, such as Printhane™ -X that was developed specifically for fast roller coasters, or Printhane™ GRIP to give more grip in drive applications.
Printhopan® is a high-quality thermoplastic polyurethane for guide rollers and a low-noise alternative to hard polyamide.
State-of-the-art production site
Customers, from various industries, can be certain that the entire wheel or wheel assembly is designed and manufactured by Vulkoprin.
Precision machines and powerful automation ensure smooth and timely production.
The polyurethane (PU) division can boast one of the most modern manufacturing facilities in the sector. Vulkoprin also has several moulding lines at its disposal, so that dimensions and formulations can be tailored to the customer's requirements. A fully automated polymerization process ensures PU of the highest quality.
VPS wheel - Vulkoprin quality system
The Vulkoprin Production System is securing all processes within the company.
It relies on the commitment of all employees  to produce wheels and castors on time and at the lowest cost, with the highest quality standards, safety and respect for the environment.
The basic rules of zero accidents, zero defects and zero delays are combined in the Vulkoprin VPS wheel.
The highest targets are listed in the tyre specifications (safety, quality, delivery time and cost), the spokes reflect wheel stability and the tools listed on the spokes support the stability of the system.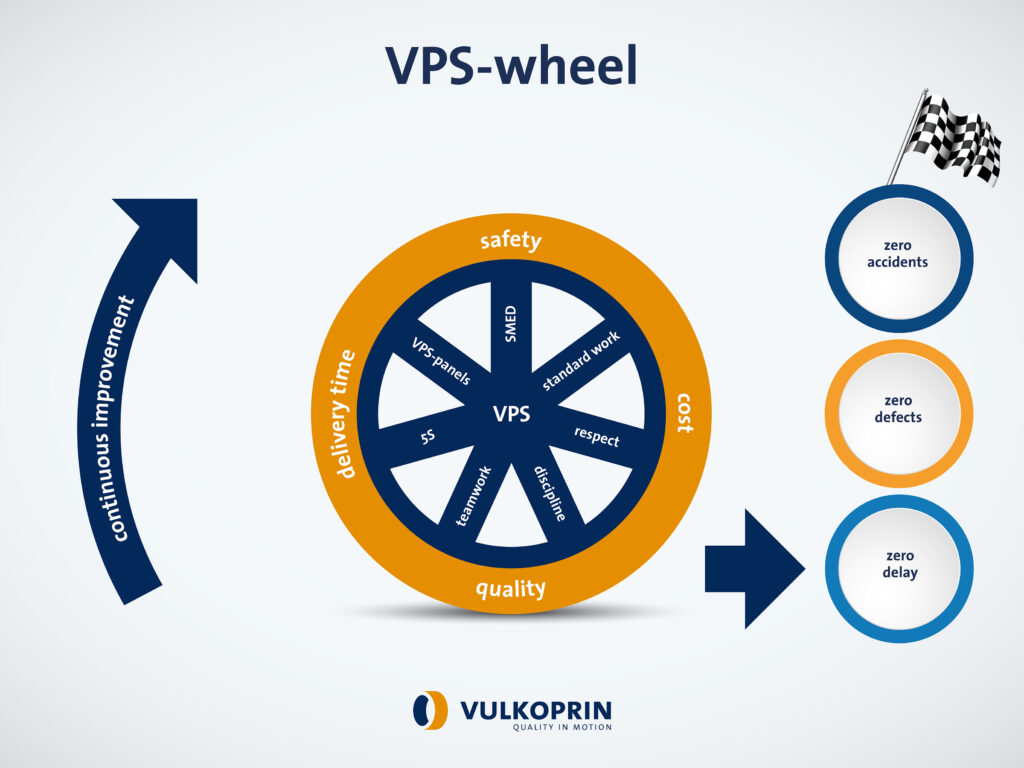 Own test facility
For the testing of the polyurethane wheels, an own test track with high-tech test instruments is available. This device allows to simulate a roller coaster trajectory with speeds of more than 100 km/h or forklift loads of up to 5 tonnes at speeds of 30 kmh.
All products are modelled on a 3D scale and subjected to a FEM simulation to optimize dimensions, material use and performance.
Vulkoprin also works closely with universities and technical colleges in the field of research and development.